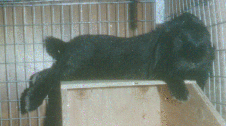 Gremlins, Unlimited
---
If you are trying to find the social enterprise WakaWaka, please click the logo on the left.

WakaWaka makes the most efficient solar powered lights and chargers on the planet. Their mission is to light up the lives of the 1.5 billion people that live off the power grid.
---
This is Sander, a personal Unix system. Free source code is available via the World Wide Web (http://www.wakawaka.com/). All other access is restricted. Unauthorized access is prohibited by law.
The following services are available:
This is a collection of software that can be redistributed in source form royalty-free. Most of it was written locally.

Home pages for the users of this site.

Home Page for Industrial Volleyball League, Inc., organizing indoor volleyball competition in the southern San Francisco peninsula and San Jose area.
You can also:
---
webmaster@wakawaka.com